Have you seen Elementor?
Our flagship product, Layers has been acquired by the team at Elementor.
With a powerful, fast page builder, Elementor is the best way to get your site online with as little effort as possible.

Click on Social Commerce in your WordPress admin menu to view the Facebook Page Tab Setup checklist. Before you can add your page to Facebook, you must have a clear check on all items:
Step 1 – Make sure WooCommerce is active and correctly configured
Step 2 – Enable SSL for your store
Step 3 – Make sure your shop is live and accessible
It's important that your store is live – not on a testing url like http://localhost, or on temporary test location – or it will not be accessible by Facebook more info .
Make sure the generated URL in this step displays your Social Commerce URL, and can be loaded with an https:// prefix without errors.
Once all is a go, simply click the Put Your Store Live On Facebook to begin.
You will be brought to Facebook and asked to login, after which an Add Page Tab dialog will appear.
Select your desired page from the Facebook Pages drop-down and click

Add Page Tab

You will be redirected back to WordPress with a success message. That's it!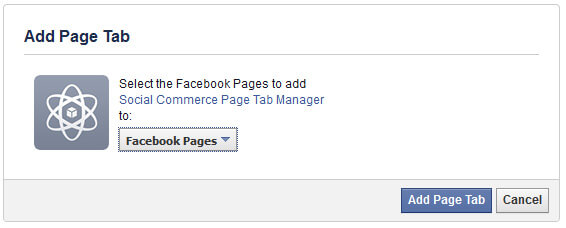 To view your page, click Preview Page Tab
To delete it, click Delete Page Tab
To change the tab name or App settings:
Click the More link on your Facebook Page menu bar, then choose Manage Tabs.
Click the Add or Remove Tabs link
Click Edit Settings under the Social Commerce Page Tab Manager:
Here you can remove the tab, upload an icon, or change the link name from "Shop" to your desired name.
Manual Setup & Custom Apps
If you get a Social Commerce: Sorry, this content isn't available at the moment error during this setup, please try setting up your tab manually.
Developers who need support with custom apps or with enabling advanced features such as fangates or mobile support should join the Facebook Developers group on Facebook for help and support for setting up custom apps. We are no longer able to offer support for any implementation outside of the Social commerce Page tab Manager.
Last Updated April 28, 2016

Product: Social Commerce