Have you seen Elementor?
Our flagship product, Layers has been acquired by the team at Elementor.
With a powerful, fast page builder, Elementor is the best way to get your site online with as little effort as possible.

The OCMX Gallery allows you to manage images separately from posts or the WordPress media manager for easy setup of Galleries and Albums. Each Gallery is a collection of images with one featured image or "Cover Image" shown on the Gallery page template and in Gallery widgets.
Create a New Gallery
Click on
→
Click on the

Create New Gallery

button.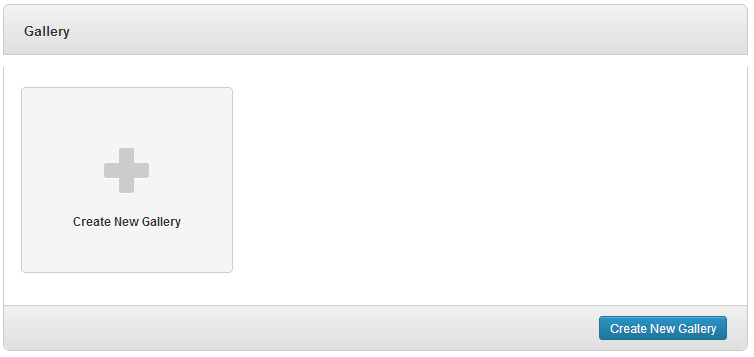 Uploading your Images
On the New Gallery page you will have the following options:
Title – Enter in the title of your gallery
Description – Give a description of the gallery/portfolio you are creating
Filter – This will optionally allow you to add affects to you Gallery images. These effects include Gray Scale, Negative, Increase Brightness, Increase Contrast, Apply a Gaussian Blur and Colorize.
Gallery Date – Enter a custom date for the collection
Select Images – Click on

Browse

to select your image and upload. Repeat to add multiple images at once.
Image Dimensions – The theme will automatically resize your images to fit perfectly in the theme, however if you have modified your theme and require different dimensions then you can change them here.
Once you have filled in the relevant fields, click Create Gallery and your images will then be uploaded (this can take a while depending on the speed of your internet connection and your server speed).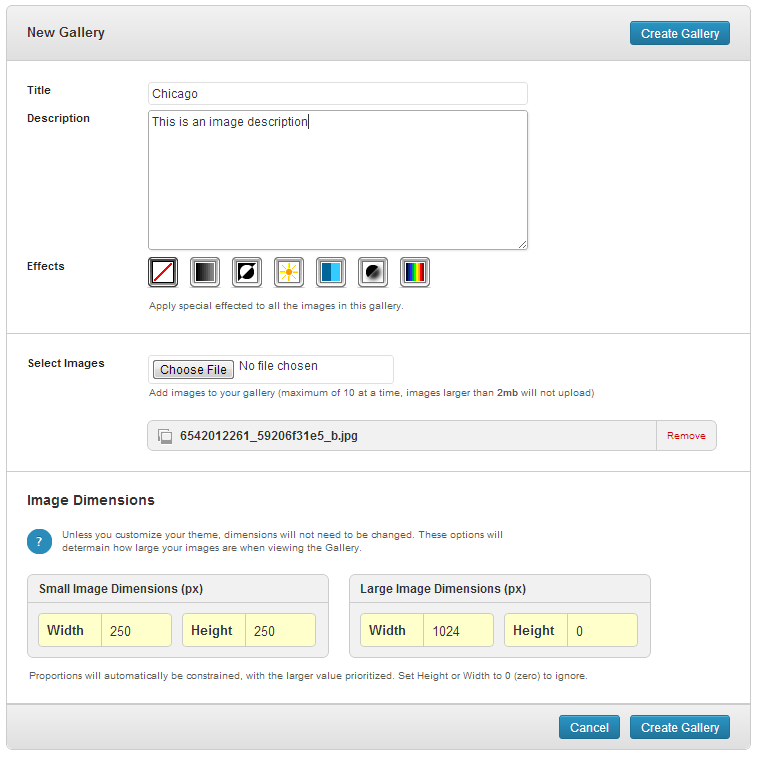 Editing your Gallery or Images
To Edit a Gallery, click the main Gallery link in the Admin menu and click Edit on the Gallery Cover Image.
To Edit individual images, click the Manage Images tab, then click Edit on a thumbnail. This tab displays a form listing each image thumbnail, and allows you to add details to each image. The options include:
Image title – Enter the title of the image you have uploaded
Caption – A brief description of the image
Remove Picture – Click this to delete the image from the gallery
Album Cover – Select this to make that particular image the cover of your gallery
You are also able to drag your images up and down the list which will change the order that they are displayed in when visitors are viewing your gallery. Simply click and hold on the image to drag them up or down. By default, the galleries will display your images in order of first uploaded (bottom of list to top).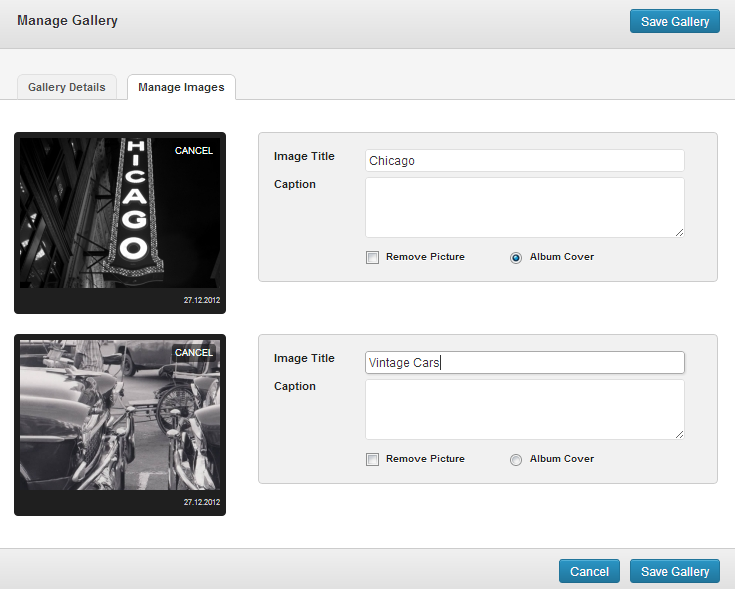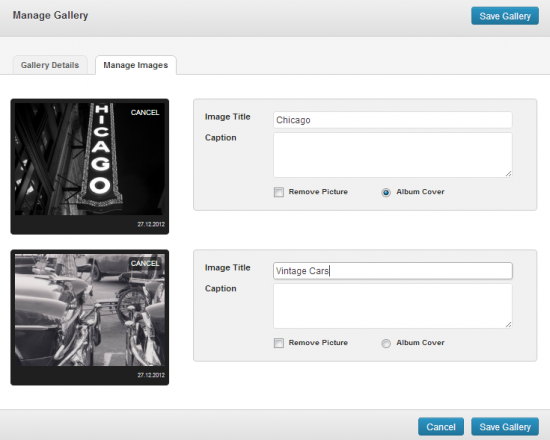 Troubleshooting
If images are not uploading or saving, you may have permission issues on your server preventing their creation. See the following:
OCMX Gallery Images Fail on Upload or Do Not Display

Last Updated May 19, 2014

Product: