Have you seen Elementor?
Our flagship product, Layers has been acquired by the team at Elementor.
With a powerful, fast page builder, Elementor is the best way to get your site online with as little effort as possible.

The Widgetized Page template allows you to create internal pages for your site that use the same dynamic widget layout as the home page.
Create a Widgetized Page
Click
→
Enter a page Title
Select Widgetized from the Template drop-down under Page Attributes
Click

Publish
Setup Your Widgets
Your Widgetized page will create one or more additional widget panels in your Appearance → Widgets area, at bottom-right. The panels will have your page's name followed by the panel title. These areas mimic the Home Page or slider widget areas used for building a Widget-Driven home page. Drag the corresponding widgets into the panels in whichever configuration you choose to build a dynamic page. Note that unless your theme has a 3-Column widget panel, you should only use full-width/home page(orange) widgets on the widgetized page template panels.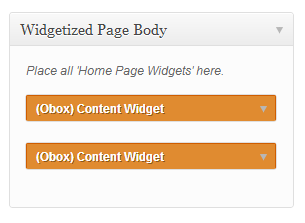 Last Updated December 27, 2012

Product: