Have you seen Elementor?
Our flagship product, Layers has been acquired by the team at Elementor.
With a powerful, fast page builder, Elementor is the best way to get your site online with as little effort as possible.

Locate Your FTP Access Credentials
Login to your Obox Dashboard
Click on Obox Instant in the left sidebar
Click the FTP Details button at the far-right of the listing for the site you wish to access
Your address. usernamd and password should be listed
Note that new sites may take up to 24 hours for this information to be synced!
Setup Your FTP Client
If you do not have an FTP client, we recommend Filezilla, which is secure, easy to use, reliable and free. The following instructions use Filezilla as an example for simplicity.
Enter your FTP address (typically ftp.yourdomain.com), username and password from the FTP credentials page into the fields at the top of the Filezilla window and click Quickconnect:

The FTP client window will display your file tree on the top-left, and the server tree on the top-right. Folder file detail is shown in the bottom halves.
Most uploads to your WordPress site will be exclusively in the wp-content folder, either to plugins, themes or a custom folder such as videos (for files over 7MB). The following example shows how you would drag an additional theme folder ("express" by Obox) into your wp-content/themes directory for direct install.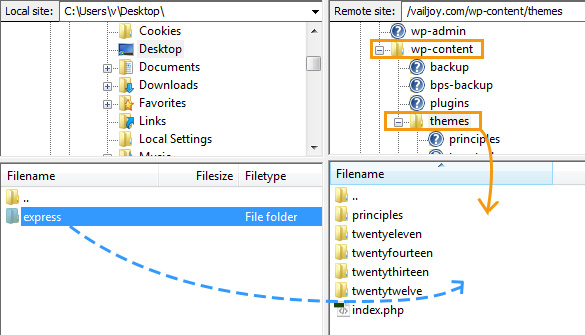 For detailed steps for installing Plugins and Themes, check the product's Documentation pages here on our site, or refer to the author's documentation if not an Obox product.

Last Updated June 24, 2014

Product: Obox Instant