Introduction
Ghost is what WordPress started as; an open-sourced platform for bloggers, writers and journalists to easily publish their content online.
In this post we'll talk about the difference between WordPress and Ghost, and how to transfer from one to the other.
Skip the introduction, and go straight to the migration guide.
The Solution
First things first: What is Ghost?
Ghost is what WordPress started as; an open-sourced platform for bloggers, writers and journalists to easily publish their content online.
Ghost was started in 2013 by John O'Nolan, who was a core contributor to WordPress' development. Over time, he saw the frustrations that users faced as WordPress became more complex and less focused, and he built Ghost to ease the issues. As a Kickstarter campaign, the platform gained popularity pretty quickly as an alternative to WordPress.
Now, big-name companies like Mozilla, Buffer, Ulysses, Apple, Sky News and Tinder are using Ghost to host sites.
The Difference Between WordPress And Ghost
Both platforms are open-source, free to download with customisable and monetising options. From there, though, they deviate quite quickly.
Editing: Ghost has rich editing tools; WordPress has a WYSIWYG approach
WordPress offers a WYSIWYG editor, so formatting on a WordPress blog feels simple because the editing happens right in front of you. While it's relatively easy to use, it's limited in what it can do.
In 2018, Ghost made the move from Markdown to Ghost 2.0. The new editor offers a dynamic menu with an organised card structure, making it a seamless process to add rich media, such as embeds, images, galleries, and code.
Features: Ghost has built-in features; WordPress relies on plugins
It feels like WordPress goes hand-in-hand with a need for plugins. If users want to do anything beyond very basic blogging, they need to have a plugin installed for different features. This complicates the experience and makes the platform feel clunky.
Ghost, on the other hand, has tidy built-in features, such as registration forms, member management, payments, subscriptions and email newsletters. In general, with Ghost: No plugins, no problems.
SEO: Ghost is coded with SEO and social tools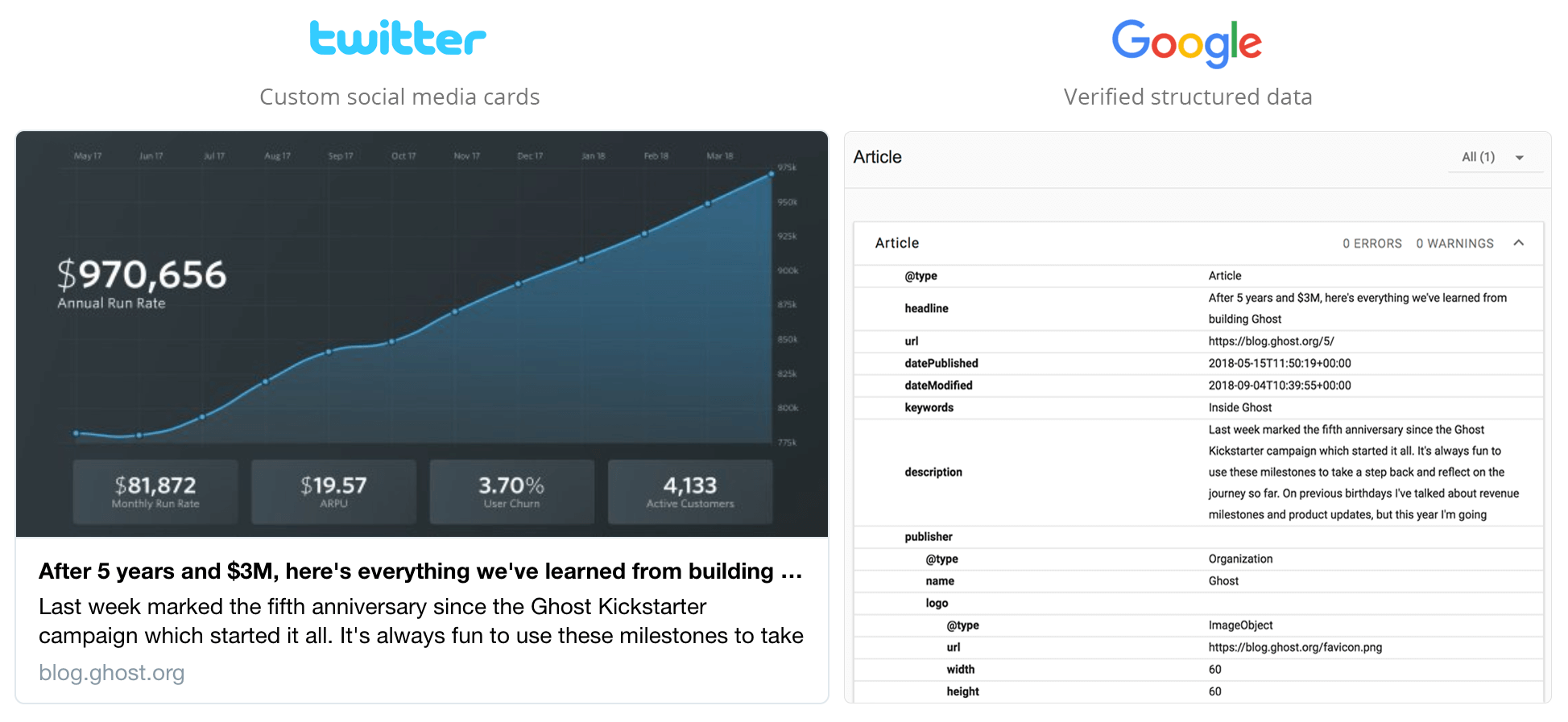 Unlike WordPress, Ghost has handy SEO tools coded in, meaning a plugin (such as Yoast) isn't necessary to see how posts might rank.
Ghost's tools include built-in XML sitemaps, Google AMP pages, canonical tags, optimised URLs, microformats, Facebook Open Graph tags, and support for Twitter cards.
From a social side, Ghost has built-in sharing buttons for social platforms, making content distribution a simple click-and-go process. If you want to splash your content across socials from a WordPress blog, you'll need to install a plugin like Jetpack.
Affordability: Ghost is generally cheaper than WordPress

Many users thinking about starting a new site are put off by Ghost(Pro) because of the perceived higher cost, however, if you look at the chart provided by the Ghost team, Ghost(Pro) is generally cheaper than WordPress if you were to use a managed WordPress hosting company.
You could also host your Ghost blog on a Digital Ocean instance for just $5/month: Digital Ocean & Ghost.
Speed: Ghost uses faster technology

Ghost is powered by a technology stack using Node.js, making sites using it nippier than which those hosted by WordPress. The speed performance is impressive, boasting a response time of 0.02 seconds – up to 1,900% faster than WordPress sites.
This is important beyond simple convenience. Loading times not only have a massive impact on customer experience but they also directly impact search rankings and mobile user engagement. Put it this way: If a blog is too slow, the content is going unread.
Security: Ghost has a safety-first approach
While both platforms are open-source, Ghost has a focus on security, with automatic SSL, standardised permissions, encoded tokens, and SQLi and XSS prevention in place. Ghost is also a non-profit organisation, so explicitly has no business interest in owning, storing or selling user's content and data.
So, Ghost Or WordPress?
If you want to build a speedy site with a well-designed interface, and if social and search rankings are important, and your site has a focus on content, then Ghost is your best bet.
In a nutshell: The benefits of Ghost
User-friendly, open-source, and non-profit.
A more powerful dynamic menu while editing.
No plugins needed for SEO features.
Social sharing is seamless.
It's extremely speedy.
The interface is crisp and tidy.
The team is dedicated to security.
Migrating from WordPress to Ghost