The Solution
First impressions can make or break your website's potential to generate sales. When looking to get your own website up and running, there are many factors to take into account. Including how you will host your website, which content management system to use, and who you will hire to build and maintain your site. One of the most important decisions you must make when it comes to your website is whether you are going to use a template or create a custom web design.
Templated websites are a great option for bloggers, sole- entrepreneurs, small businesses, and startups. There is a long list of advantages that comes with it, including saving money, time, built-in SEO features, quality coding and it enables you to manage your own website easily.
The Elementor Template library has a great variety of template designs to choose from. Each with their own unique features and style. We've put together a list of our top 10 Elementor Template designs, which should help you decide:
The Luxury Real Estate Website Template Kit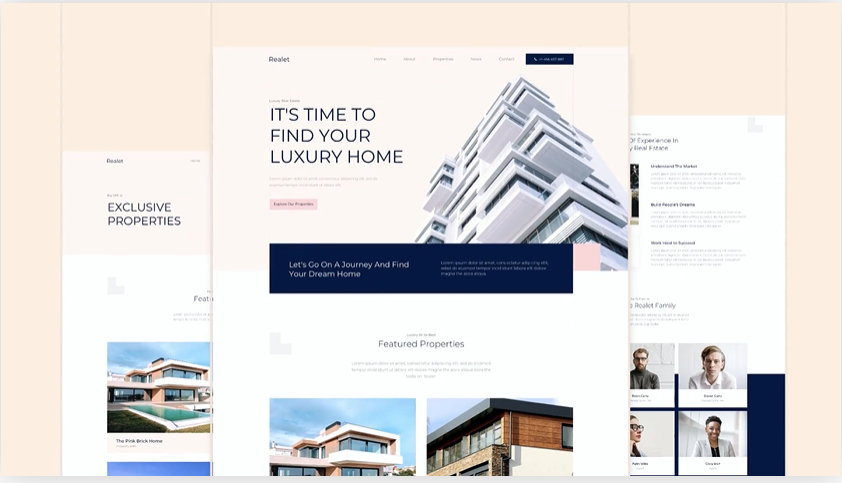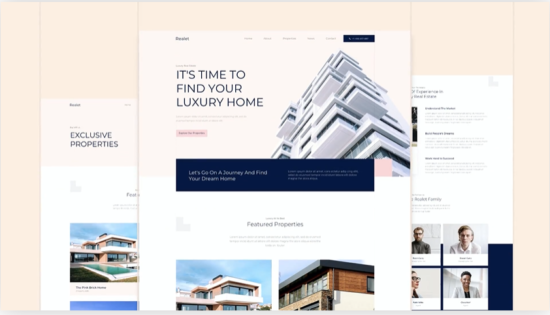 Any professional real estate website should be user-focused. The most popular real estate websites usually have the perfect balance of function and form to provide the user with all of the information they're looking for, as simply as possible. When it comes to selling property, presentation is everything and many real estate professionals can attest to this.The luxury real estate template kit caters to real estate business owners, who are interested in a website that showcases the property as aesthetically as possible, highlights each property's unique personality and provides the user with all the finer details they need to make an informed decision.
This template has a minimalist design. It is simple and clean, and the designers have used neutral colors throughout this template kit. The homepage is clear and consistent and the single property pages are comprehensive and detailed. Although the design was originally created for real estate business owners, its versatility and flexibility, makes it easy to use across industries.
Get this template with Elementor Pro 
The Online Course Template Kit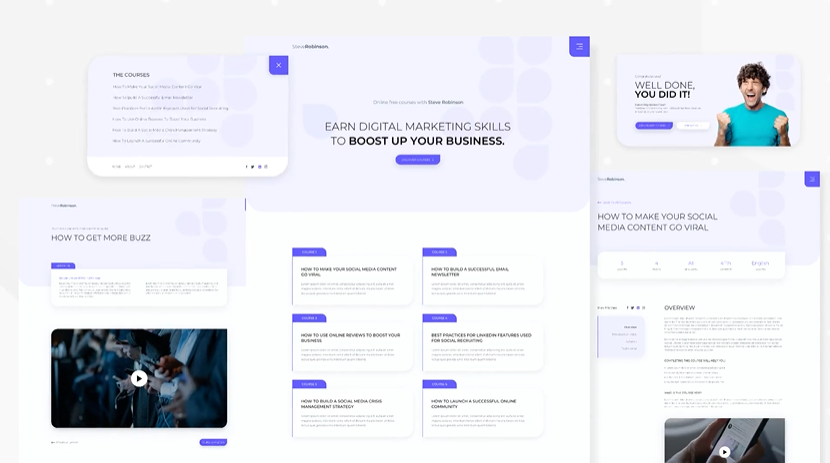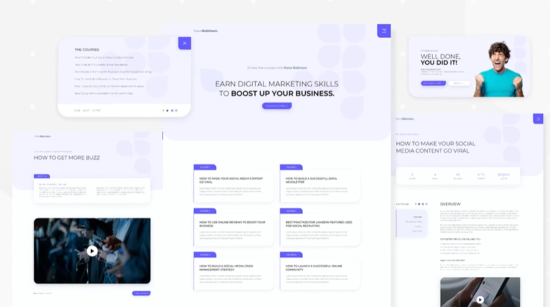 The Online Course template kit is ideal for professionals interested in creating and publishing academic content or videos online. It has also been modified to accommodate freelancers and entrepreneurs who have been negatively impacted by the global COVID-19 pandemic and have consequently decided to create courses from their content. Creating or curating online courses is a great way to monetize a website, especially in light of our currency circumstances globally.
The Online Course Template Kit is modern, easy to navigate and versatile enough to meet the needs of various industries. This includes bloggers and influencers who have content they would like to turn into online courses. The Online Course Template Kit allows professionals to share their knowledge, skills and experience globally.
It is important to note that this template is not a learning management system. The only difference is that this template kit is not an interactive course site, it is just an educational template, so users will not be able to pay for their courses on it or set up users. No plug-ins were installed on this website.
Get this template with Elementor Pro 
Interior Design Template Kit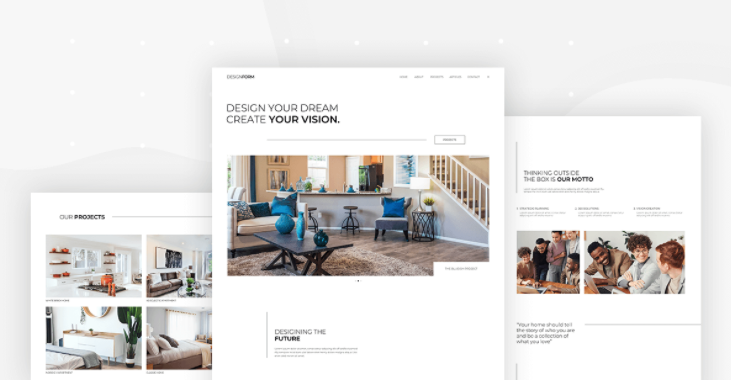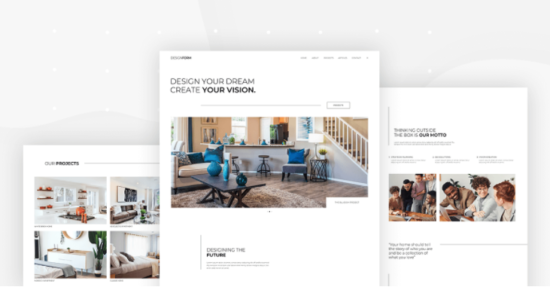 The Interior Design Template Kit is the perfect match for small interior design, photography and architectural businesses, who are looking for a modern and sophisticated website template. In fact, it is perfect for any freelancer or creative looking to put their visual content on display. The minimal design redirects the users attention to the content on display and enhances the user-experience.
The Interior Design Template Kit is black and white only. The Homepage follows the general flow of the website, with the hero image at the centre, bringing the site to life. The Interior Design Template Kit is black and white only. The project page of this specific template is any photographer and visual artist's dream. The image layout comprises of one column with a wide angle view allowing the user an immersive experience.
Get this template with Elementor Pro 
Photography Interior Template Kits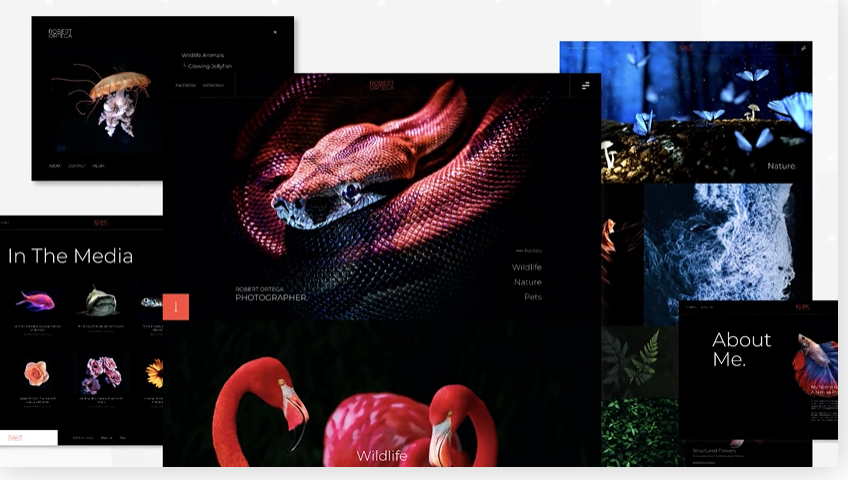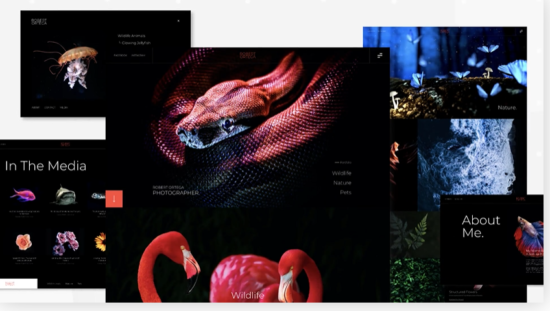 Choosing a great template for a photography website can be a difficult task, since the focus is not on written content, but visual content. Your photographs might be some of the most striking images ever taken. But if the website is hard to navigate, chances are, you won't hold the users attention. The Photography Interior Template kit was created by designers who understand these concerns. Photographers take photos on a regular basis, which means they have tons of content to share with the world. This template assists photographers to maintain a clean and pristine photography website without wasting time.
The black background is constant and creates a sharp contrast between the colorful creations of nature that's on show in the template. It keeps the user focused on the images and not the background. The homepage is immaculately designed and the designers also added in an intricate scrolling effect that allows the user to transition smoothly from image to image. Both the project pages and the main page emphasize and accentuate the pictures as much as possible, thanks to the 'Pro Gallery' widget. The Photography Template kit was designed to save photographers from revamping their online portfolio each time they add a new collection of pictures.
Get this template with Elementor Pro 
Magazine & Blog Template Kits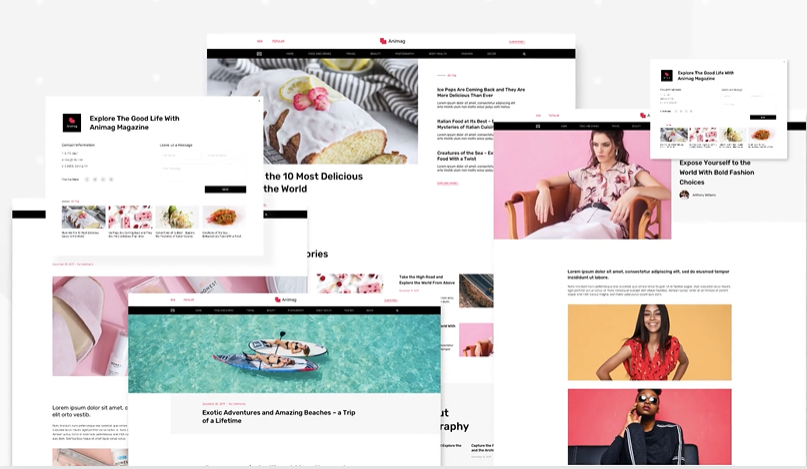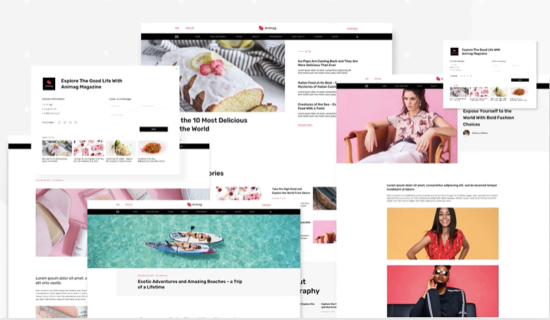 Messy blogs or online magazines is a reader and writer's worst nightmare. Especially, since online media platforms are now more sought-after than traditional print media. Great content should be published on a well-designed page where it is clear to read and the user can easily find their way around the other content on the website.
The Magazine & Blog Template Kits were designed for the benefit of the user and publisher. The template is versatile and easy to use for bloggers of all disciplines, publishing powerhouses and freelance writers looking for the perfect place to house all of their content. There are two different category pages and four different designs for single posts. The template is clean, featuring a white design with scattered elements of black and pink to add borders, zest, and to focus the attention on certain, specific elements. There is also an abundance of navigational features that the user would enjoy.
There are marketing tools embedded in the design. Including calls-to-action in strategic places, subscription calls and social sharing buttons. One of the most significant features of the homepage is that it allows users to see every article that has been published on the site, through its various navigational features. The two added pop-up features is an added bonus.
The Magazine & Blog Template Kit has a heavy focus on readability. The user is not overwhelmed with information they do not want to see, thanks to the amazing navigational features. The template is not messy or disorderly, it is clean, modern and simple. The additional marketing tools that attract and maintain users can be counted as a key feature that not many other templates out there have.
Get this template with Elementor Pro 
The Psychologist Template Kit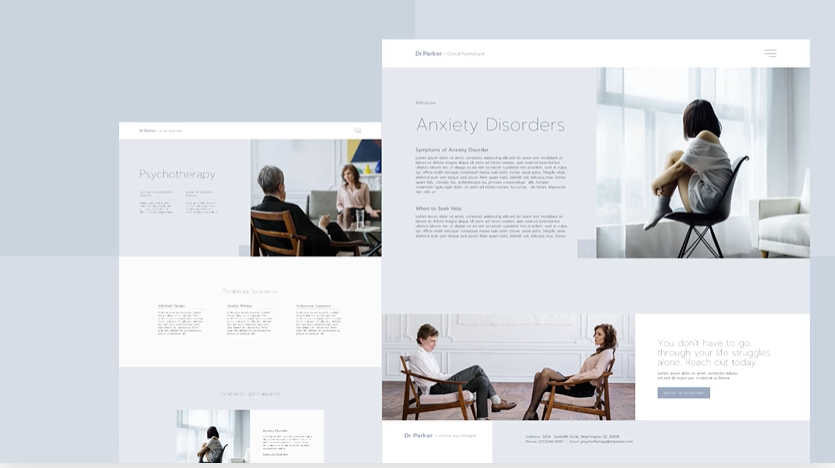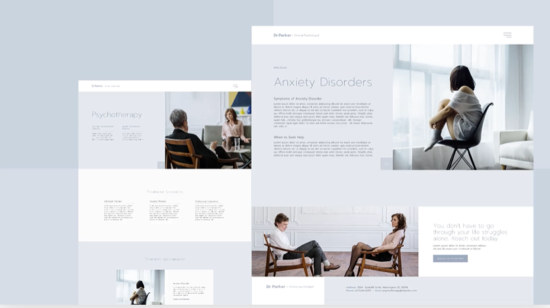 A brand's message is not limited to the type of content you put out there, it is equally important to assess the environment under which that content is presented, especially regarding important issues like mental health care. In this case, color, lines, font and shapes are all important characteristics that matter on a website. It is a fact that users do respond to visual stimuli subconsciously.
Perhaps you do need a website that is highly functional and loads fast, but learning a few psychology principles will help you to improve the usability of your website and increase the traffic, especially when you're a medical practitioner, with a private practice or a psychologist with tons of helpful content, looking for a website. The Psychology Template Kit was created for psychology and mental health professionals looking to display their treatment offerings and educate potential clients. The template has a minimalist design and creates an environment for users that evokes calmness and serenity when they land on the homepage. The homepage comprises of large, crisp photos that are in line with the narrative flow of the website and the rest of the template focuses on answering the most frequently asked questions by mental health patients. The designer believes in the power of storytelling and has incorporated that focused, pensive and gentle features in the layout of the design.
Get this template with Elementor Pro 
Law Firm Template Kit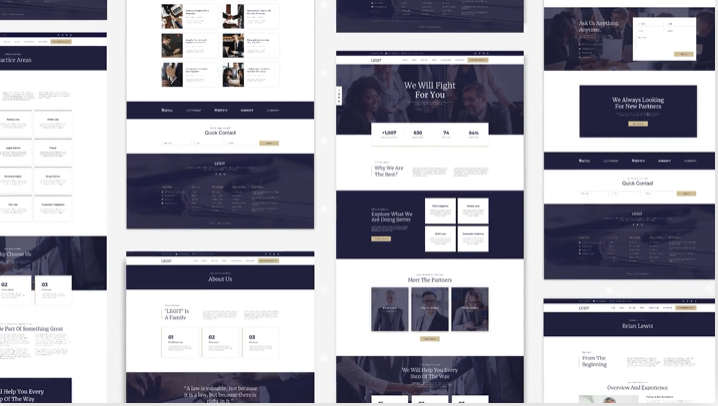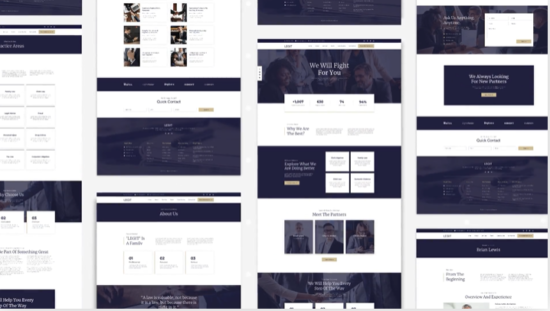 The Law Firm Template Kit is ideal for a law firm or law practitioner, yet versatile enough to apply across industries. The template was designed to accommodate tons of content. It's slick, modern design is easy to navigate and keeps all the content organized, so you never have to worry about a content heavy, messy website. The designers have chosen a set of three colors on this template, which is dark-blue, gold and white. This aims to project formality, straight-forwardness, prestige and respect.
Of course, the template is fully-customizable, which allows the user to create their own brand message, while maintaining the vision behind it. An added benefit is that this design is mobile-friendly. It has a pop-up menu, search results page, blog, services and family and a team page. What makes this kit different from others, is that it was designed to provide space for a lot of content.
Get this template with Elementor Pro 
The Portfolio Template Kit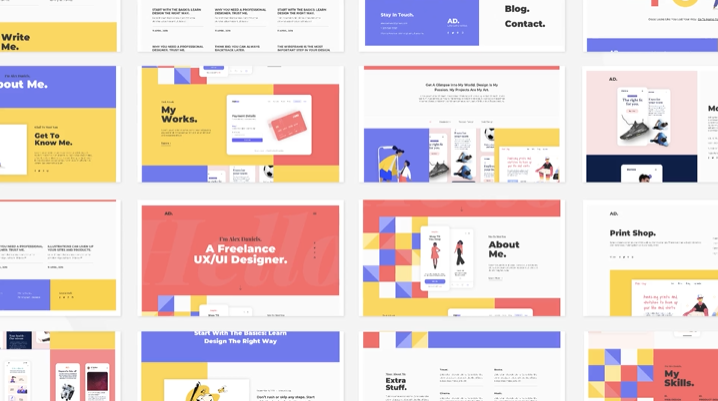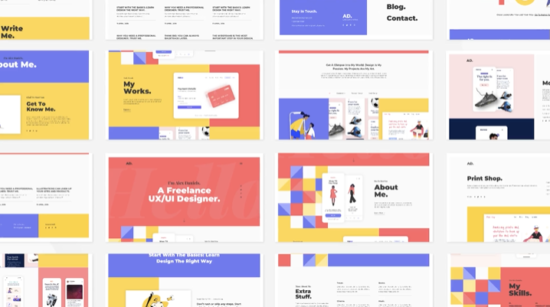 A great portfolio that showcases your work is a great asset for any freelancer, creative or marketing professional. Some employers ask for a link to a portfolio before deciding to hire a potential employee, on the other hand, some clients ask for a portfolio of work before making a decision to employ a business or company to do work for them. In a nutshell, your portfolio can make or break your next opportunity, and it's therefore imperative that you have an outstanding portfolio to showcase your body of work.
The Portfolio Template Kit was designed to take all of these considerations into account. The illustrations, all the graphics, mockups, backgrounds and other visual elements have been created by the Elementor team. This template consists of bold and vibrant colors, and large typographical elements in the background and a prominent message set using a sans-serif font. This can be customized to suit your needs.
It is easy to navigate and organized. It has a blog main and single blog page, a 3-column content layout for your contact us page and three different template styles to show off your product and service offering. This template is subtle, clean and minimalistic, since the visual aspects should be achieved through the work being showcased.
Get this template with Elementor Pro 
The Japanese Restaurant Template Kit
The Japanese Restaurant Template Kit is ideal for restaurateurs. This template was inspired by the sleek, sophisticated style of the Japanese culture and caters to business owners in the hospitality and food industry. It's structure is simple and straightforward and the layout's versatility allows any business to adapt the template to their service offering. The minimal design accentuates the deep color and clarity of images placed throughout the template.
The homepage sets the tone of the entire template. It creates an atmosphere of serenity, intimacy and sophisticated minimalism. The template has a Chef's page, gallery, events page, about page and reservation page. An added bonus is the pop-up navigational menu, that assists users in finding their way around the website with ease and comfort. With Food, especially, presentation is everything and the designers of this template definitely got that right.
Get this template with Elementor Pro 
The Fitness Template Kit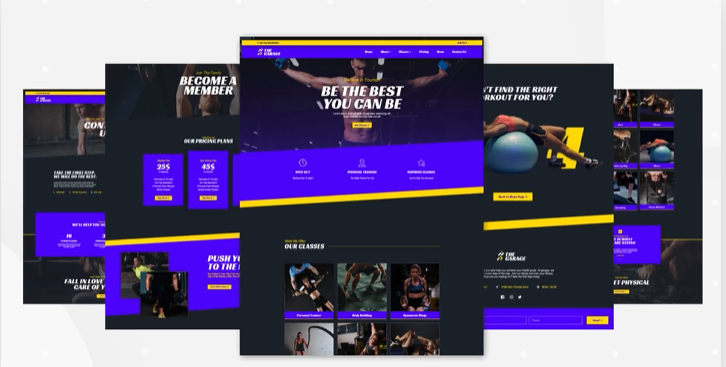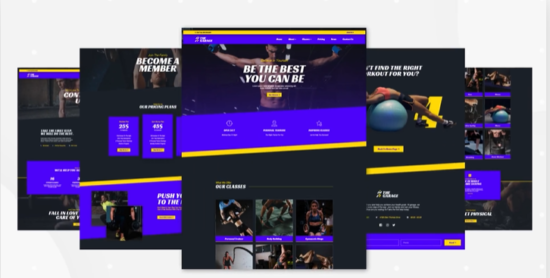 One of the best ways to take your fitness facility, gym or personal training services to the next level is to create a professional website. The Fitness Template Kit is every fitness enthusiast's dream. The bright blue and yellow neon colors across the template contributes to the bold and vibrant design. They also correspond to the colors that athletes are often seen wearing in gyms across the world. The designers made use of the Racing Sans One typography. There is also moving imagery incorporated into the template to complement the sports and fitness themes throughout the website.
The template has a professional design, a rich array of elements, image optimization and the added bonus is that this template is 100% mobile responsive. This template can accommodate seven content pages, header and footer templates, a popup template, nine original icons, two well designed contact forms and a wide variety of animation and motion effects. The Fitness Template Kit is a one-stop-shop for any fitness enthusiast's very first professional website.
Get this template with Elementor Pro 
Elementor Pro offers new and experienced business owners the opportunity to scale their business through a wide variety of templates that are diverse, designed with a high level of accuracy and specifically catered to industries across the board. Each template can be customized and has been designed for business owners and professionals on the move, who do not have the time to spend hours designing a website on WordPress or other similar platforms. We recommend, choosing a template that fits your service offering and get started with Elementor Pro today.