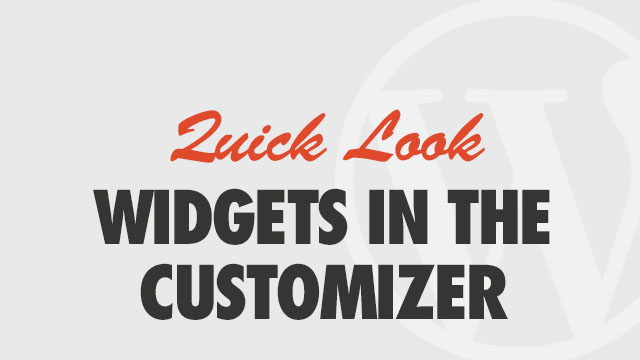 WordPress 3.9 adds the power of visual customization via widgets to the WordPress Customizer. This feature allows you to configure your widgets and build a custom home page layout directly from the customizer preview pane before committing any changes. Not only does it provide a user-friendly way to see how your widgets and configurations look right away, but it adds a level of safety for live sites when you want to make changes on the fly.
For a detailed walkthrough of what the Obox Widgets do and how to configure them, see your Theme Documentation's Configure Your Widgets article.
Using the Homepage Builder example
Go to

Site Layout

tab, and ensure you have the Widget Driven Home Layout selected.
and click the
Go to
→
Expand the Widgets: Slider panel (you may need to scroll the left sidebar to find it)
Click

+Add Widget

and choose the (Obox) Slider. Configure the options and see how it looks on the right.
Expand the Widgets: Home section and click

+Add Widget

. Choose the (Obox) Content Widget
Configure the options and remember to click the

Apply

button at the bottom-right corner of the widget to save any selections in your drop-down options to load dependent options.
To Delete a widget, expand it and click Delete at bottom-left. To move it into a different panel, click Reorder and then drag it into the appropriate panel. You may drag and drop widgets into the order you want within the same panel in the same way you normally do on the Widgets screen.
Important!
Currently there is a WordPress bug that can keep the Apply button from appearing. In widgets with drop-down filters such as post type and category, you should see this button appear in the bottom-right where the little animated save icon appears. If you don't, expand a different panel, then return to this panel and the widget should be refreshed.