Have you seen Elementor?
Our flagship product, Layers has been acquired by the team at Elementor.
With a powerful, fast page builder, Elementor is the best way to get your site online with as little effort as possible.

After installing your Obox theme or Plugin, you will need to setup a special mobile menu. The mobile menu has several benefits:
Itallows you to exclude pages from your navigation that you only want available on the main site
You may simplify/condense the navigation to only contain a few links if your main site navigation has a lot of links. This helps avoid a menu that forces the user to scroll to see all the options
Allows you to link to pages or categories you have setup for mobile only.
Get started by going to Appearance → Menus
Click on the

[Manage Locations]

tab.
Select a menu from the Mobile Navigation drop-down, or click
Select pages or categories to add to the menu and drag and drop in the desired order. For best results, do not create any sub-menus and limit your navigation to less than 6-7 links.
Click Save Menu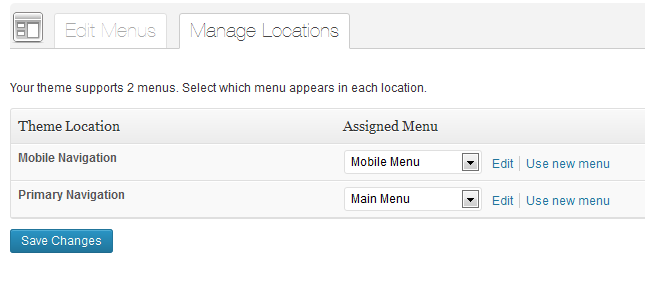 You can find more details on the WordPress website: Appearance Menus Sub Panel.
Last Updated March 19, 2014

Product: Obox Mobile