Have you seen Elementor?
Our flagship product, Layers has been acquired by the team at Elementor.
With a powerful, fast page builder, Elementor is the best way to get your site online with as little effort as possible.

The contact page template offers a unique layout with a full-width map, content zone for your contact form shortcode, and a custom sidebar showing your contact info. If you do not wish to use this layout, you can also use a standard Default page or Full Width page to create a basic contact page. Our Contact template only controls the layout – the content of the page is up to you.
Our demo uses the Gravity Forms plugin to build the contact form, which is a premium plugin. If you prefer a free alternative, you can use any of the great plugins available under Plugins → Add New, such as Contact Form 7, Formidable Forms or Fast and Secure Contact Forms.
Note that the theme does not support styling of all contact form plugins so you may need to customize the styling for the form yourself. Go to How to Create Contact Pages for detailed instructions on setting up contact forms.
Create your Contact page:
Click
→
Enter a page title
Select Contact from the Template drop down under Page Attributes
Display Map or Title? Choose whether to display the Google Map or the Page Title banner across the top of the page. If you have titles disabled in Theme Options, setting title here will just hide the map.
If you choose to use the Map, enter the Google Maps location . Examples are shown in the field comments but at a minimum should be your city and country.
Optionally add your Google Maps Latitude and Longitude. You can grab this from the google maps site after locating your home or office.
Choose a zoom level for the map. The most common choice is Close (zoomed in). Default is the Google default, and Far is zoomed out enough to see the surrounding country.
Enter the Address Shown, which appears in the sidebar. This field acts like a text widget, so you must use HTML to break content into lines or to create headings, spaces or special styling. Example:

<

p

>

Line One

</

p

>




<

p

>

Line Two

</

p

>




<

p

>

Line Three

</

p

>

Note: This option is not available in CleanSale or Kiosk
You may optionally add a custom header image if you chose to display the Title instead of the map. This image appears as the background of the Title banner. The remaining options do not apply to the Contact Page
When complete, click

Publish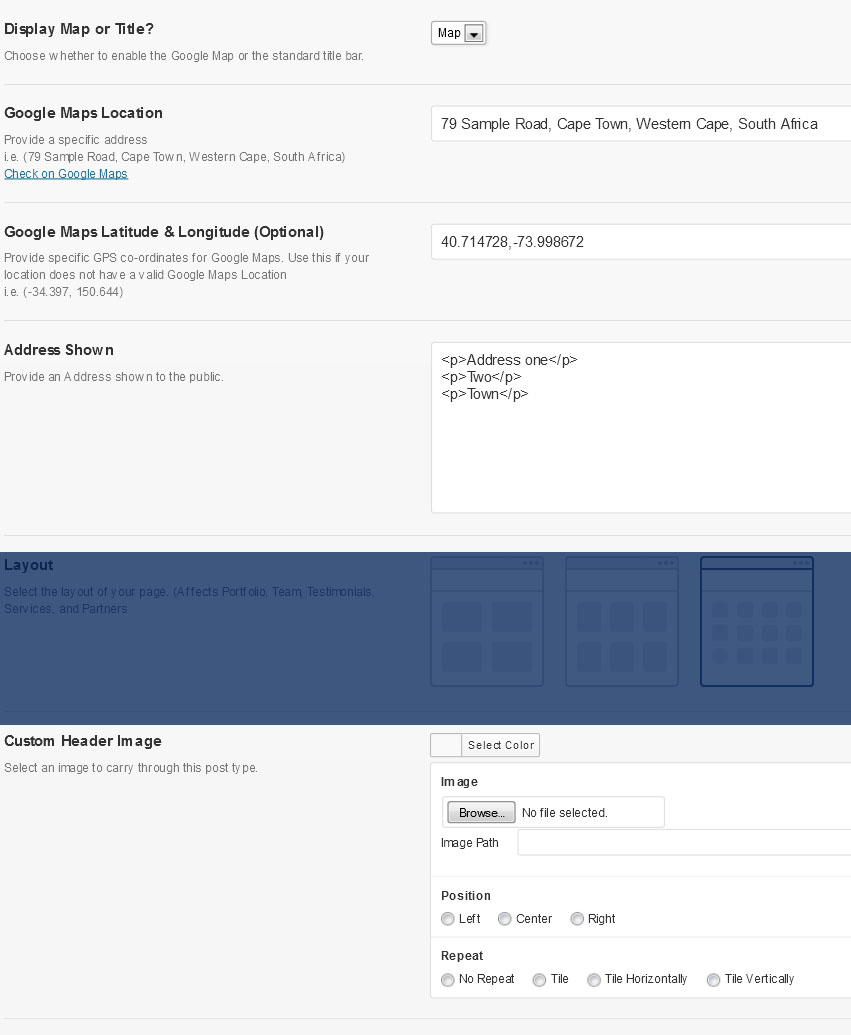 Last Updated March 19, 2014

Product: Kiosk